First, This is just Part of the mess we pulled out of the room. Scary, isn't it? I also gave away a full trash bag of fleece and fabrics.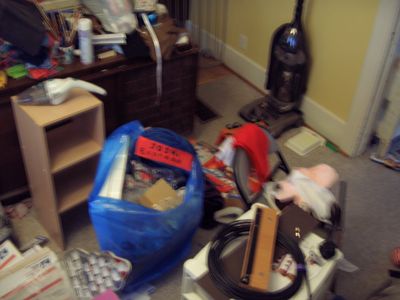 Here is the sewing Corner. Notice the 2 windows? Tons of sunlight for that corner. I am making a basket for the shelf to hold small stabilizers and embroidery/sewing items. In the basket already there is some Merino/Silk I am spinnign right now.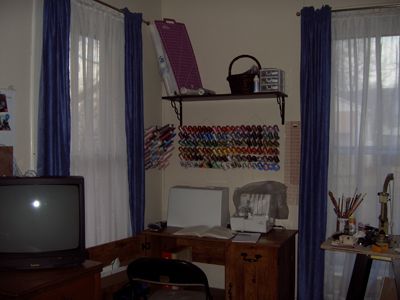 The Computer Area, which isn't as messy as it looks... And yes, that is my facebook up on the computer. And yes I will friend you if you like. :)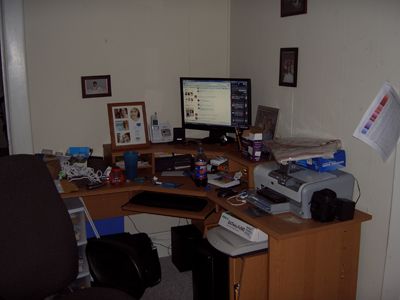 On the bottom shelves of my book case are 6 show-offs, 1 with FOE, 2 with FOs, 1 with Fibers, 1 with bobbins and carders, OK, maybe 2 with fiber. I also have about 10 pounds of undyed fibers in my pantry.
The top shelf has yet to be touched, but holds patterns and books. I need to clear it out of junk though.
My personal Yarn stash. Which isn't to suggest that it never gets used for business... it does, but if I am gonna knit or crochet, it is from this stash. :)

And here is the start of the basket I am making for the shelf. boring base, but after it gets about 2 inches bigger on each side, I am gonna start the sides in some brown/white natural hand spun I did early in my spinning adventure. that should lend some visual interest to the peice.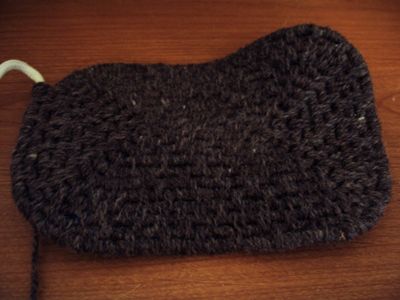 Hope you like my new space. There are still a few kinks, and a few things to finish, but I like it.