That's right, ladies and gentlefolk, My new wheel is here.

The UPS man came to my door yesterday afternoon and brought with him a great big box of loveliness. And I can surely tell you, this will now and always be the only bug ever allowed in my home.
The Box itself is stated as being the best and safest way to ship or pack the wheel, and it is highly recommended that you do not lose or dispose of it. Schacht sells replacement boxes for $25 each. Definitely not the cheapest Box I've ever seen.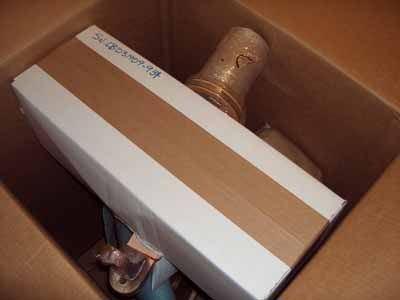 When I opened it, I was not surprised at the small amount of padding in the box... but only because of reviews I have read prior to buying. The wheel is in pristine condition, though.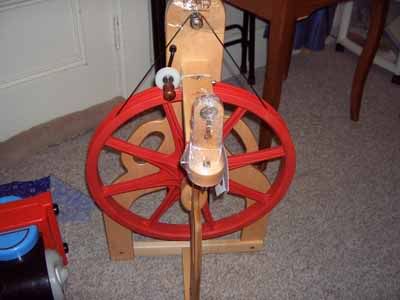 And The cute little mascot is in a very cool spot. It is visible when I am spinning, right between the treadles on the back leg of the wheel.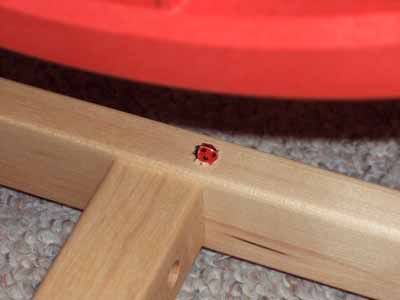 I started spinning on it right away. well, as soon as Beeba 2 let me. I decided to start off in Scotch tension, since the wheel came set up that way, and its easiest to just leave it that way for now.
I have some lovely batts from
The Good Sheep
to spin, but I was afraid that the first time spinning with a new wheel I might mess it up, and I really want to do these justice, so I ent stash diving for something small to play with.
Despite knowing that Alpaca can be tricky (especially when it is the first time spinning alpaca) I found some small alpaca batts (lovely soft stuff, but less than an ounce) in my stash and chose that for my practice fiber.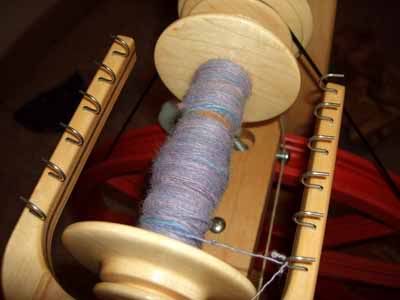 I have to say, the singles aren't perfect, but they are really pretty... and the wheel spins like butter. I haven't measured WPI, but they are pretty fine.
Interestingly enough, with the same effort of treadling, I am spinning as swiftly and finely on the 9:1 ration of the medium whorl as I did on the 13:1 ration on my old wheel. That gives me a lot more space to grow, with 2 whorls faster (4 higher ratios) and 1 whorl lower (3 lower ratios).
I think eventually, I will want additional accessories. I can see myself wanting the new Bulky Flyer and bobbins when they are released, if only for plying. I think I might only buy 1 or 2 of those bobbins, though. I do see myself wanting more regular high speed bobbins down the line, especially if, as I anticipate, I wind up preferring Double drive. I also think that despite mixed reviews, I will be wanting the built in lazy kate eventually. it would be great for storing bobbins and traveling with them, whether it is great for plying from or not.
For those with young kids, I also find this is a breeze to spin on even with some "help" treadling. I have much more control, even if I relinquish control of one treadle to my almost 3 year old big boy.
And I found out today that on this wheel, I can spin with a sleeping baby in lap. I could ot do that with the old wheel. It was too loud and distracting, and the treadle is not at a great angle for me to have her on my lap... she would slide off. The Ladybug treadles are a little higher, making for a more comfortable spinning position overall. I even spun reclined in a chair!