Kind of. Alright, so its one thing I AM working on, and one thing I just finished.

So, what I am working on, aside from my socks, and a million other projects, this is my newest project: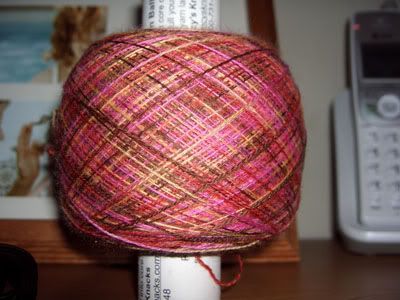 Yes, Its just yarn atm. I cast on, but with a 3 stitch cast on, it doesn't look like much. this is the yarn for my
Blue Jeans Lace Leaf Shawl
. it is very fine, and I think maybe I am crazy, xause even for lace, this is LACE. it is as fine as my very finest handspun, only I can't seem tom make handspun in this qualntity in this fineness... I get bored way too fast. hence buying the yarn this time. Plus it was on sale.
And the project I finished, My
Jenny Bag
. I love this pattern. and best yet, the designer is a friend from one of my message boards. Can't beat supporting your friends and getting something cool too.
Ok, so the fabric is very bright. But it matches my Mei Tei, and I really love it right now. I know, I'll probably get tired of the print eventually, but that's the great thing about making things... you can always make another! I also made a matching wallet, from another of the same designer's patterns, and am debating making the sunglass case that comes with this pattern. I have the leftover fabric, and I might. I also added ties to the purse so that I can close it. it is reversable, by the way, so if I want somethign a little less loud, I can also have a plain black purse at the spur of the moment. cool, huh?