On one of my message boards, I am participating in a "yarn everyday for 30 days" challenge. Every day, I am spinning, dyeing, or prepping fiber to spin, for a minimum of 20 minutes. Then posting pictures in the forum. Its a fun challenge, and has several hidden benefits, which can be reaped by both me and by my customers.
Benefit 1, more yarn and fiber available to be bought. That is always a good thing.
Benefit 2, My skill level increases with steady and regular practice. This is true of any fiber artists, at any level. The more you do, the better you do it.
Benefit 3, its super fun, and means I am taking more photos of my work.
With that in mind, some pics of the previous days' works?
April 1st- Merino Fiber, spun at about a 36 wpi
April 2nd- Lots of dyeing happened... about 22 ounces. Plus spun more of the merino
April 3rd- More merino
April 4th- Plying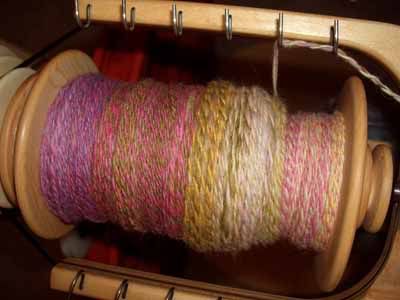 April 5th- spun silk at 40wpi and plied to some 40 wpi alpaca -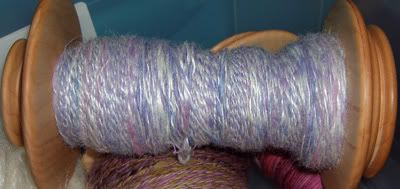 I probably won't post a pic everyday here on the blog, but I'll update every few days anyway. Hope you enjoyed the pics!